Lifted Chevy Trucks from RMT Overland in Orange, TX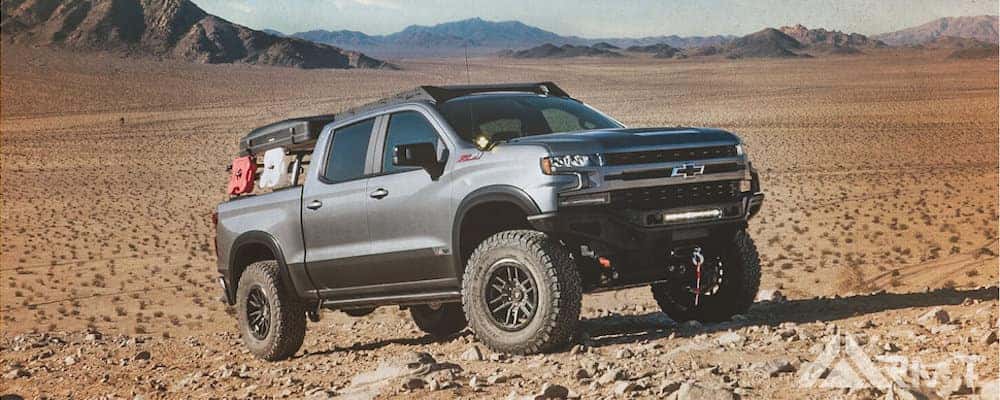 The engineers at RMT Overland have been making some of the world's most capable off-road and overland vehicles for more than four decades, and we here at Granger Chevrolet are proud to offer their custom upfits for Chevy pickups. Learn more about the RMT Overland Chevy and the Chevy 1500 Off-Road Package below, and then contact us to find the lifted Chevrolet truck that's right for you.
The RMT Overland Chevy
The RMT Overland Chevy is ready for long-distance adventures over almost any type of terrain. If you're the type of driver who feels that the journey is at least as important as the destination, this custom pickup is going to be very difficult to pass up. Here's what it includes:
Fox 2.5 Replacement Coilover Front Shocks
Adjustable Remote Reservoir
Fox 2.5 Replacement Rear Shocks
Adjustable Piggy-Back Reservoir
Replacement BDS Upper Control Arms
18"X9" RMT Overland Wheels
34" BF Goodrich KO2 Tires
Smooth Matte Black Fender Flares
RMT Speedometer Calibration
RMT Speedometer Gauge Panel
RMT Hood Light Mounting Plates
Baja Designs Squadron Cube Lights
RMT High Clearance Front Bumper
Baja Designs 20" Light Bar
RMT Tube Style Rock Rails
Matte Black Hood Graphic
Matte Black Quarter Panel Rock Guard
RMT Exterior Badging
Black Exhaust Tips
FMVSS Compliant
3-Year / 36,000 Mile Warranty
RMT Overland also offers a range of upgrades and options for their Overland Chevy. These include
Bed Rack System
MaxTrax Recovery Boards (Gray or Orange)
RotoPax Gas and Water Cans
RMT Roof Rack
CVT Rack Mounted Tent
iKamper Rack Mounted Tent
ReTraxPRO Sliding Bed Cover
Trigger Wireless Lighting Control System
Let us know what you're looking for in your RMT Overland Chevy. We'll scour the Port Arthur and Beaumont areas to find a model that meets your precise specifications.
RMT Chevy 1500 Off-Road Package
Rocky Mountain Truckworks also offers an Off-Road Package designed exclusively for the Chevy Silverado 1500. This package has been designed to help you conquer any obstacle in your path and tackle some of the toughest trails in the world. Don't wait to take a closer look at what it's offering:
BDS 6" Suspension Lift System
Fox 2.0 Rear Shocks
35" BF Goodrich AT KO2 Tires
20" Premium Off Road Wheels
RMT Brake Caliper Covers
RMT Speedometer Calibration
RMT Rock Rail Side Steps
Tinted Front Windows
Color-Matched or Black Fender Flares
Off Road Rocker Panel Graphics
Performance Exhaust Upgrade
RMT Speedometer Gauges
RMT Custom Stitched Headrests
Premium RMT Exterior Badging
FMVSS Compliant
3 Year/36,000 Mile Warranty
As with the RMT Overland package, this Off-Road Package is available with some exciting options and upgrades:
Power Running Boards
Custom Leather Seating
Custom RMT Paint Scheme
Overlanding vs. Off-Roading: Which Package is Right for You?
What kind of adventure are you planning? Overlanding and off-roading have some similarities, and they overlap in certain areas. However, these two custom upfit packages are designed with different goals in mind:
Overlanding is the practice of traveling long distances over changing terrain. Generally speaking, the overlander will live in or near their vehicle for the duration of their adventure, which might last for weeks–or even longer. The required modifications make the vehicle exceptionally useful and versatile, but overlanding vehicles may not be as well suited to rock crawling or extreme off-roading.
Off-roading is a general term that can refer to any travel that requires you to depart from the paved and beaten path. Here, it generally refers to heavy-duty off-roading, which may involve rock crawling, mudding, and traversing steep inclines. A vehicle that has been built for the world's most demanding trails won't necessarily be suitable as an overlanding model, since the requisite modifications take up a significant amount of space.
Looking for other options? We also offer lifted Chevy trucks from Rocky Ridge, and our in-house Granger Rough Terrain Lifted Truck Line!
Find Your Lifted Chevrolet Truck at Granger Chevrolet
We love connecting Beaumont and Vidor drivers to lifted Chevy trucks that can conquer any challenge. Start exploring our new Silverado inventory or contact us to learn more about your options today! No matter which build you end up settling on, we can't wait to see you behind the wheel.