Chevy Financing near Pinehurst, TX
So, you've explored the inventory at our Chevy dealer near Pinehurst and found the ideal Chevy truck or SUV for you. What's next? Once you've taken your Chevrolet test-drive and decided on the new or used vehicle you wish to lease or finance, you can sit down with our expert Chevy financing team to discuss your auto loan or lease options. We can also discuss new Chevy specials and used car sales that will help you save even more. Allow us to answer any questions you may have about the Chevy financing process, or we can figure out a Chevy lease agreement that works best for your credit.
It doesn't matter whether you're leasing a new Chevy Trailblazer or buying a used Chevy Corvette, as we'll help you find a pricing solution that works best for your specific budget. Speak with the Granger Chevrolet team about your Chevy financing options today to determine the perfect route for you to take.
Why Should You Finance a Car?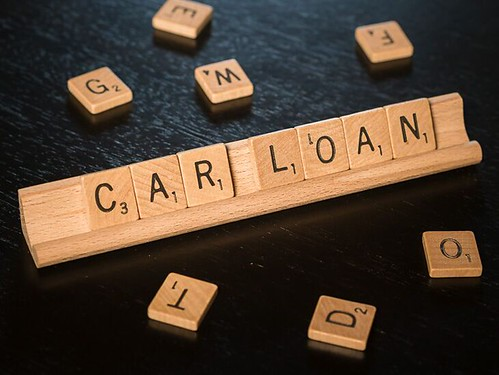 Image via Flickr by aronbaker2
Sometimes you might feel like purchasing a vehicle is a Catch-22 situation: you need money to purchase a vehicle, yet you need a vehicle to get to work to make the money to buy it. You also may have enough cash to pay for a vehicle, but this would completely drain your savings, causing you to be stuck if an emergency arises. Luckily, you have another option by taking out money via a loan to pay for the vehicle. Depending on how long the loan terms are, you could have about two to seven years to pay off the loan.
Financing a vehicle also comes with several benefits, some of which include the following:
Allows you to choose from more vehicles.
Lets you improve your credit.
Gives you monthly payments that work with your budget.
It's also a smart idea if you have a low or no credit score, since making timely monthly payments can help establish and enhance your credit history. This also improves your chances of getting approved for better terms and rates in the future.
How Does Car Financing Work?
When you opt to finance a vehicle, the institution lends you the money to cover the costs. If you're approved for the loan, you'll make monthly payments until you pay off the loan. Each payment is split into two parts:
Principal payment: This amount goes directly toward paying back the loan's balance.
Interest payment: This amount pays the interest due.
Some money might also go toward certain fees associated with the loan, such as late fees. The monthly payment amount is determined by the amount of money you need to borrow, the annual percentage rate (APR), and the length of the loan. The APR is one of the biggest factors when securing a loan since it affects how much money you will be paying for the vehicle. Certain aspects can affect the interest rate, such as the loan term, your credit, and whether you're purchasing a new or used vehicle. By using a payment calculator, you can determine exactly how much your monthly payments will be.
Once you repay the loan in its entirety, the lender typically sends a lien release document to your state's transportation agency. However, not all states require this step. Also, your vehicle's car title will be updated and sent to you so you have proof that the vehicle is paid off.
How Much Does Your Credit Affect the Loan?
Although there isn't one universal minimum credit score you must possess to obtain a car loan, it's one factor that lenders take into account when determining if you qualify for the loan. Every lender sets its own minimum credit score requirements, but some might be willing to work with you if you've experienced bankruptcy or repossessions.
If you've gone through bankruptcy or repossessions and can wait to purchase a vehicle until you clear up your credit history, it might be worth it to build up your credit. A low credit score usually means you'll receive fewer offers compared to someone with good credit. Even if you're approved with your poor credit, you'll likely receive a higher interest rate than someone who has a better score.
According to Experian, during the first quarter of 2020, borrowers who had high credit scores of 720 or higher were able to secure interest rates on brand-new vehicles for less than 4% while used vehicle rates were at 4.29%. On the other hand, borrowers who had poor credit scores of 579 or below, secured rates of 14.39% for brand-new vehicles and 20.45% for used ones.
To put it into a possible scenario, say you secure a five-year $20,000 car loan. If you have good credit and obtain a 4% interest rate, you would pay $2,000 in interest throughout the loan. With poor credit and the 14.39% interest rate, you would pay more than $8,100 in interest.
Why Should You Go Through a Dealership's Finance Center?
You have several financing options available when shopping for a car loan. Banks, credit unions, finance companies, online lenders, and car dealerships are just a few of the financial institutions that might lend you money. However, a car dealership is the only one of these options that allows you to take advantage of certain incentives, such as rebates or 0% financing.
All franchise dealerships and many independent ones offer dealer-arranged financing. What this means is that instead of applying for a loan directly through a lender, you'll simply fill out a credit application through the dealership, and its finance department shops around for you. This convenience means that you avoid doing all the legwork needed to find the best lender for your needs and budget.
Your application is typically sent to large lenders and credit unions that the dealership works with directly. The lenders send back responses to the finance department, and a finance manager reviews them and presents the offers to you. Since it has a relationship with a variety of banks and finance companies, the dealership might be able to offer you a variety of financing options.
When you're in the market for a vehicle and need financing near the Orange, Texas, area, reach out to Granger Chevrolet. We offer a secure online finance shopping tool, which lets you conveniently apply for financing whenever and wherever works for you. After filling out the application, one of the members of our experienced finance team will reach out to you about what financing options work best for you.
Sales Info
Mon - Fri

9:00 AM - 7:00 PM




Sat

9:00 AM - 5:00 PM




Sun

Closed
Mon - Fri

7:00 AM - 6:00 PM




Sat

7:00 AM - 1:00 PM




Sun

Closed
Mon - Fri

8:00 AM - 6:00 PM




Sat

8:00 AM - 1:00 PM




Sun

Closed
Get Directions To Our Dealership