Granger Rough Terrain Lifted Truck Line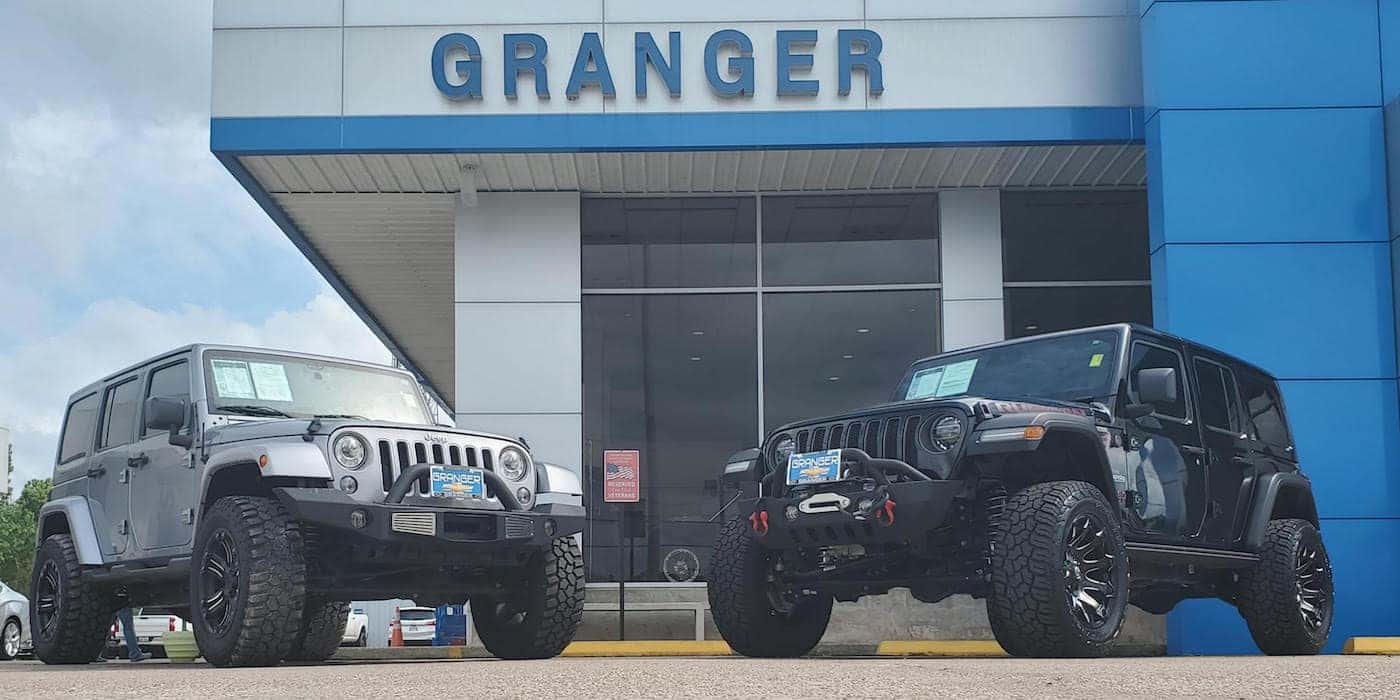 Searching for an affordable truck lift service in the Beaumont area? Look no further than Granger Chevrolet, where you'll be in the company of experts. Our in-house Granger Rough Terrain Lifted Truck Line includes everything you need to conquer the rugged terrain far outside of the Vidor limits. Learn more about our in-house lifted trucks below and explore some quick benefits of truck lifts before visiting us in Orange, TX!
---
What Does the Granger Rough Terrain Lifted Truck Line Include?
As our in-house package, the Granger Rough Terrain Lifted Truck Line is managed by our very own team of experts who know just what your Chevy truck needs to take on the Texas terrain. The package includes:
Altered suspension
High-quality aftermarket wheels
Aggressive tires
Upgraded interior seating (seating upgrade options vary between vehicles)
Curious what types of interior upgrades are available for models like the Silverado 1500 or the Silverado 2500HD? We welcome you to contact us at your convenience to discuss the details of how your truck can be customized!
---
Benefits of Lifting Your Truck
There are several truck lift packages available at Granger Chevrolet. In addition to our in-house Granger Rough Terrain Lifted Truck Line, you can also consider RMT Overland lifts, Rocky Ridge lifts, or Tuscany Motor Co. lifts. No matter the type of truck lift you prefer, the benefits you'll enjoy on- and off-road in Port Arthur are the same:
Lift kits allow your truck's suspension to be altered for higher ground clearance, better shock absorption, and to create room for larger off-road tires.
You can tackle challenging terrain with greater ease.
Cosmetically speaking, a truck lift gives your ride an adventurous quality and an aggressive appearance that's sure to stand out in Sulphur, LA.
When you're navigating traffic, you'll have a bird's eye view of what's ahead!
With an altered suspension, your truck's center of gravity is higher. This provides better balance and more confident handling on the road, and can also increase performance and safety when towing.
---
Build Your Custom Chevy Truck Lift at Granger Chevrolet
No matter what type of adventurer you are, there's a lifted Chevy truck with your name on it at Granger Chevrolet! Visit us in Orange to discover what a Granger Rough Terrain Lifted Truck can do for you. While you're here, you can meet with our service and parts experts if you need some guidance when choosing the right accessories for your off-road or worksite needs. We can't wait to get you into a lifted Chevy truck you love!