The December Super Sale!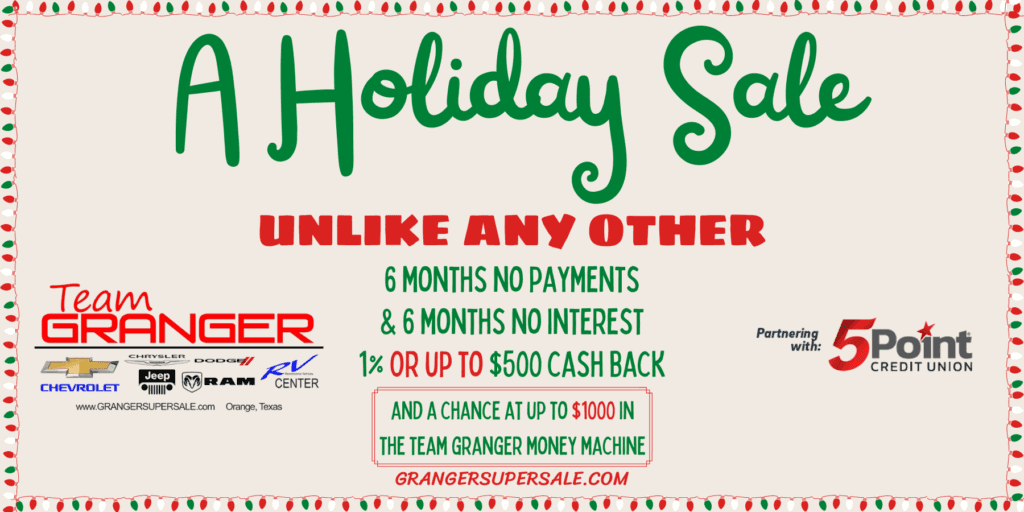 Discover the Sale that will put the super in superior. The Granger December Super Sale.
The Holiday season isn't easy for everyone. Sometimes people are struggling and need help, other times some just need a small lift to help them on their way. That is why we at Granger Chevrolet have partnered with 5 Point Credit Union to make sure that those that might just need a car to get their life back on its feet can get started.
    A Holiday Sale Unlike Any Other.
We mean it when we say unlike any other cause the reasons why you do things are the ones that matter, we do this sale because we really do believe that 6 months of no payments and 6 months of no interest on great cars like the incredible Explorer, the amazing Escape, the fantastic, F-150, or the wonderful Expedition can be the key to lifting someone up. But this sale isn't just about giving back, this sale is about the fun that should come with the Holidays.
    Have a little fun too.
That is why we have made this sale not just a sale but a celebration, because a sale shouldn't just be a good deal it should be a good experience, a fun time with food and activities you and your family can enjoy. So help us, help you, to a good car, and some good fun.